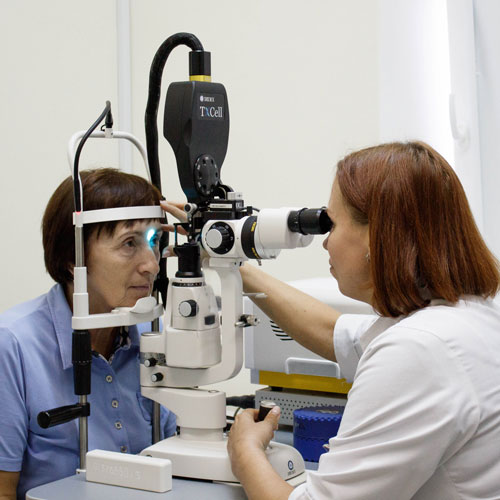 In the Ophthalmology department these diagnostic examinations can be performed:
Verification of visual acuity and selection of glasses with spherical or astigmatic lenses. For best results, we use ultramodern Auto Refkeratometers, chart projectors and automatic phoropters. Forget about a movement from apparatus to apparatus, about an uncomfortable test spectacle frame on the nose bridge!
Visual fields examination by all known methods. We perform manual and computer perimetry, including visual fields examination for colors;
Microperimetry – a unique examination of the most important part of the eye - the area of ​​the Macula!
For measurement intraocular pressure we use modern automatically devices (contactless tonometry) and tonometry by Maklakov. The patients can perform daily tonometry and electrotonography – a very important component in the diagnosis and monitoring of Glaucoma;
Corneal topography with analysis of the anterior and posterior surfaces of the cornea is a necessary examination for patients with keratoconus, keratopathy, as well as unstable refractive errors.
Pachymetry - the examination of corneal thickness - necessary for calculating the individual normal intraocular pressure of patients with Glaucoma. This information must be taken into account for patients, who plans eye surgery;
Ultrasound examination of the eye in all known world ophthalmology modes can be performed in our department. Ultrasound "A" method, Ultrasound "B" method, as well as UBM - ultrasound eye biomicroscopy;
Echobiometry (ultrasound with measurement of the parameters of the eye) - contact and immersion modes! This date increases the accuracy of the calculation of the intraocular lens (artificial lens) for mature cataracts. It improves the postoperative vision of patients;
Endothelial biomicroscopy of the eye – examination of the inner membranes of the eye in vivo for the timely detection of pathology and treatment;
Gonioscopy – examination of the anterior chamber angle of the eye;
Examination of the fundus with a fundus lens - examination with modern lenses allows to notice a changes of the fundus on time and start treatment;
Fluorescent angiography of the fundus - an indispensable examination for the pathology of the macula diagnosis, vascular disorders, as well as for the identification and differentiation fundus neoplasms, including malignant forms;
Retinoscopy with video fixation - our slit lamps have cameras for photo and video fixation the changes in your eyes. The attending doctor can always evaluate the effectiveness of the treatment;
Electrophysiological examination of the eye - a unique method of diagnosing and predicting functional changes in the neurons of the visual pathway in congenital and acquired pathologies of the organ of vision;
Optical coherence tomography of the retina and optic nerve, including three- dimensional mode - examination, which has become the world standard for diagnosing and monitoring patients with Macular pathology and Glaucoma;
Optical biometry of the eye (measurement parameters of the eye using the laser: the linear dimensions of the lens, anterior chamber, thickness and radius of curvature of the cornea) - a necessary examination for calculating the intraocular lens (artificial lens), including Premium class (toric, multifocal) in the surgical treatment of cataract. After surgery the patient not only sees well, but doesn't use glasses, getting perfect vision for distance and close.