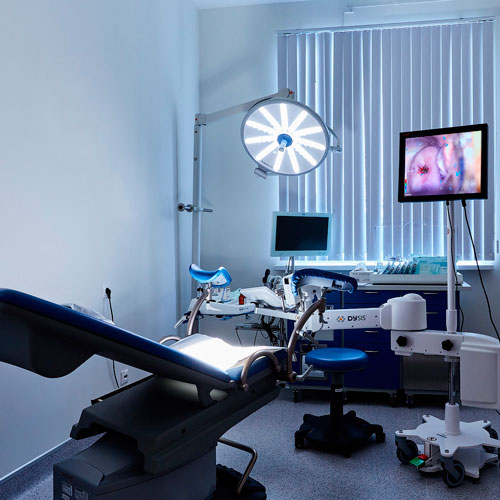 Gynecology
The whole range of diagnostic, non-surgical and surgical care, including in gynecological oncology.
The main directions of the gynecology department:
Uterine myoma
Clinical management of patients with uterine myoma includes observation, monitoring, drug therapy, various methods of surgical intervention and realization of alternative methods of treatment.
Endometriosis
Laparoscopic operations are performed to treat the complex manifestations of endometriosis in the department of operative gynecology.
Polyps of the body and cervix, endometrial hyperplasia
A variety of operations are performed in the department of operative gynecology on this disease.
Infertility
Laparoscopic surgeries for the treatment of infertility are performed in the gynecology department.
Prolapse of the genitals
The department uses various methods of surgical treatment of pelvic floor insufficiency, pelvic organ prolapses and their functional disorders using their own tissues.
Benign ovarian tumors
This type of tumor is treated using laparoscopic methods and thanks to the long-term clinical experience of the department of operative gynecology.
Surgical treatment of intrauterine pathologies
All types of intrauterine surgery using mechanical, electrical, laser energies are performed.
Surgical correction of the anomalies of the uterus and vagina
Various types of surgical interventions are performed.
Oncogynecology
There is a whole range of radical surgical interventions.
Mammalogy
The center provides mammological care on the principle of "closed loop". Specialists of the highest category carry out all types of breast examinations.
Oncommology
Surgical care involves medical - diagnostic breast surgery and sanitation benign processes, all types of surgical interventions for patients suffering from breast cancer.
Laparoscopic sterilization
There are restrictions on this procedure.
Cervical pathology
Surgical treatment of cervical pathology is performed.
Vaginal pathology
Treatment is made by surgery.
Pyo-inflammatory diseases
Laparoscopic methods are used to treat such diseases.