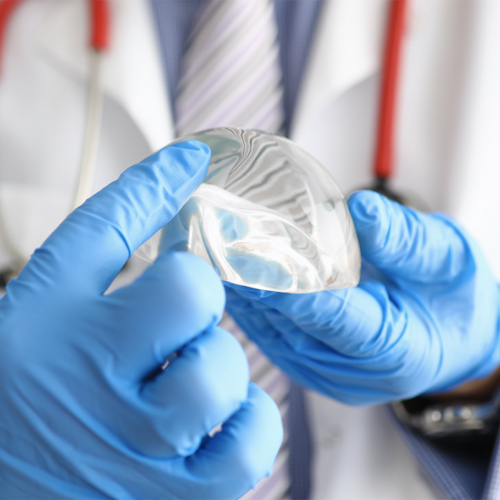 Reparation operations
A breast cancer operation may be followed by a reparative operation to recreate the appearance of the breast.
INDICATIONS FOR THE BREAST REPARATION OPERATION
Breast reparation operations may be performed to reconstruct the initial volume, symmetry and appearance of the mammal gland.
BREAST REPARATION OPERATIONS PERFORMED AT THE RCMC
SI "Republican Clinical Medical Center" performs reparative operations following mastectomy with the use of artificial implants or the patient's own tissues, to recover the form and volume of breast. Depending on the specific situation, reparative operations may be carried out either concurrently, or in several stages.
CONTRAINDICATIONS
Diabetes mellitus;
Cardiovascular disorders;
Blood clotting abnormalities.
PREPARATION FOR SURGERY INTERVENTION
Ten days before the procedure, general blood and urine tests, coagulation test, HIV, hepatitis and syphilis tests shall be performed.
Your consulting physician may also appoint additional samples and tests to be taken.
Stop taking blood-thinning drugs seven days before the operation.
Refrain from eating for 16 hours before the operation.
Stop the intake of liquids 2 to 4 hours before the operation.
HOW TO GET ONCOLOGICAL MAMMOLOGICAL SURGERY AT THE RCMC
Call the Contact Center to make an appointment with a mammologist.
Conclude a contract for the provision of paid services at the registry and pay the invoice at the cash desk of the RCMC or via ЕРИП (SSIS: Single Settlement and Information Space).
Come to the consultation on time.
Branch services
The information presented in this Price List is for guidance only. Some services are provided only in conjunction with other services. Therefore, the final price may differ from those presented on this site when contacting a medical center to conclude a contract for the provision of medical services.
Реконструкция молочной железы
Вверх
Услуга
цена для граждан:
беларуси
снг
остальных стран
Маммопластика эндопротезом (1 сторона)
539 р. 38 к.
720 р. 36 к.
720 р. 36 к.
Анестезиологическое пособие - общая эндотрахеальная/ларингеально-масочная +паравертебральная блокада
382 р. 31 к.
486 р. 02 к.
486 р. 02 к.
Анестезиологическое пособие - общая эндотрахеальная/ларингеально-масочная анестезия
323 р. 16 к.
411 р. 16 к.
411 р. 16 к.
Анестезиологическое пособие - тотальная внутривенная анестезия с сохраненным спонтанным дыханием
265 р. 37 к.
353 р. 37 к.
353 р. 37 к.
Редукционная маммопластика (1 сторона)
730 р. 51 к.
1014 р. 02 к.
1014 р. 02 к.
Анестезиологическое пособие - общая эндотрахеальная/ларингеально-масочная +паравертебральная блокада
475 р. 32 к.
629 р. 11 к.
629 р. 11 к.
Анестезиологическое пособие - общая эндотрахеальная/ларингеально-масочная анестезия
416 р. 16 к.
554 р. 25 к.
554 р. 25 к.
Анестезиологическое пособие - тотальная внутривенная анестезия с сохраненным спонтанным дыханием
358 р. 37 к.
496 р. 46 к.
496 р. 46 к.
Подкожная мастэктомия с установкой имплантата (1 сторона)
654 р. 30 к.
896 р. 78 к.
896 р. 78 к.
Анестезиологическое пособие - общая эндотрахеальная/ларингеально-масочная +паравертебральная блокада
435 р. 45 к.
567 р. 79 к.
567 р. 79 к.
Анестезиологическое пособие - общая эндотрахеальная/ларингеально-масочная анестезия
376 р. 30 к.
492 р. 93 к.
492 р. 93 к.
Анестезиологическое пособие - тотальная внутривенная анестезия с сохраненным спонтанным дыханием
318 р. 51 к.
435 р. 14 к.
435 р. 14 к.