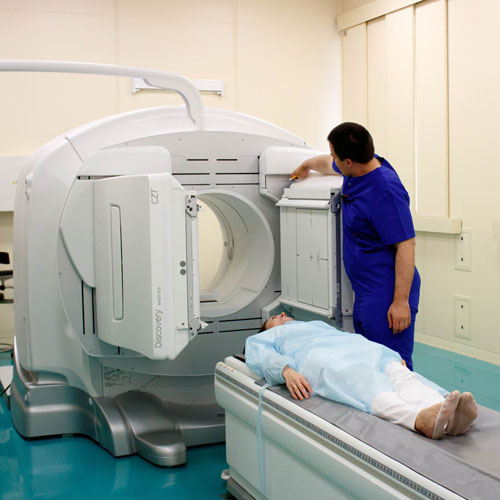 Radionuclide diagnostics
Radionuclide diagnostics (syn. radiologic exclusion) –a radiological examination, based on the usage of composed labeled with radionuclides.
Organs are visualized using scintigraphy. The basis of this method is selective localization and excretion of radioactive drug by organ, which is examined. Scintigraphy provides possibility to examine organs topography, verifies morphological, functional and metabolic disorders. It gives a good opportunity to visualize tumor, inflammation and thrombosis.
Isotope laboratory
Republic clinical medical center provides radionuclide diagnostics with the equipment of expert class.
Currently we provide next variants of isotope examinations:
skeletal system
liver
kidney
heart
lungs
thyroid gland
parathyroid gland
brain
macrovessels (angiography)
lymph tubes and nodes of extremities (lymphographic)