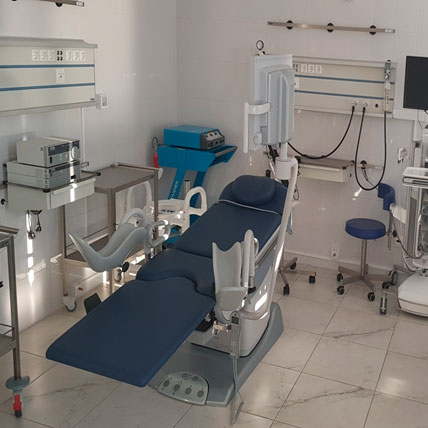 Urology
Wide variety of modern diagnostic tests, practice of modern technology in minimally invasive treatment of urolithiasis, benign prostatic hyperplasia, oncourology.
Urological department of RCMC provides a wide variety of treatment and diagnostic procedures for patients with urological pathology.
Uroflowmetry is the measurement of voided urine (in milliliters) per unit of time (in seconds). The important elements of the test are voided volume (which should be >150 mL), maximum flow rate (Qmax), and the curve of the flow (which should be bell shaped).
Indications:
Dysuria (difficult urination)
Pollakiuria (frequent urination)
Urinary incontinence
Prostate enlargement
Neurological dysfunction
Bladder pathology
Cystoscopy is a procedure that allows your doctor to examine the lining of your bladder and the tube that carries urine out of your body (urethra). A hollow tube (cystoscope) equipped with a lens is inserted into your urethra and slowly advanced into your bladder.
Cystostomy is a surgically created connection between the urinary bladder and the skin used to drain urine from the bladder in individuals with obstruction of normal urinary flow. The connection does not go through the abdominal cavity.
Pathology of external genital
Circumcision is the removal of the foreskin from the human penis.
A hydrocele Winkelmann, Bergman surgery
Orchiectomy
Prostate pathology
Holmium laser enucleation of benign prostatic hyperplasia (BPH).
Urolithiasis
Extracorporeal shock wave lithotripsy (ESWL)